3 Quick tips for shooting video on location in the Atlanta Area.
This post addresses a very specific set up and filming, however, the techniques we use can be applied to many location shooting.
We have a great client, Winton Machine that has recently decided they need high definition videos produced for their various product lines. This poses many challenges for us as a creative services company. The following post address a few of those challenges and how we have met them.
Challenge 1: Very short lead time for shooting.
Winton designs and builds custom machines for tube fabricating. Because most machines are custom, Winton schedules the shipping as soon as testing has been completed. That means the window for shooting is typically two to three days. At times we are called the day before shipping and need to film that afternoon.
Tip 1: Assemble a checklist of the specific items needed for location shooting for just that client. In our case for Winton, we need multiple tripods, 5D Mark II, Canon T3i, GoPro Hero4, digital cards for all, batteries charged, backdrops and floor covering, lighting, both constant for video and flash for photography. We also need stands for lighting and backdrops as well as safety glasses to enter the warehouse. As a side note, we are in the process of developing an iOS app so that we will always have access to the list in hand and can add to it anywhere.
Challenge 2: Shooting in a dark machine shop.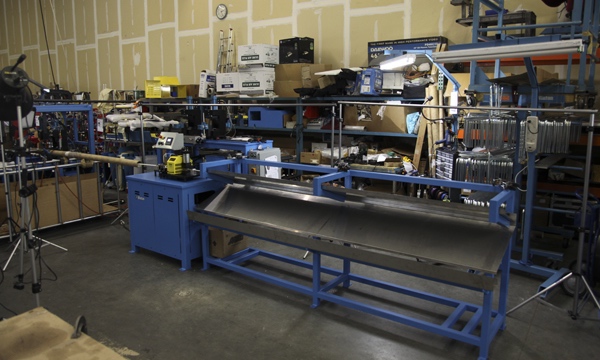 Changing the environment from cluttered and dark to clean and white.
Tip 2: Have materials for backdrop and flooring re-usable. When we first started shooting we used paper to cover the flooring and as a backdrop. This worked fine for a while but became more expensive as time went on. Once we set up and filmed one machine, all the paper had to be thrown away because the floor of a machine shop is full of small metal shavings. We also had to keep on hand many rolls of paper.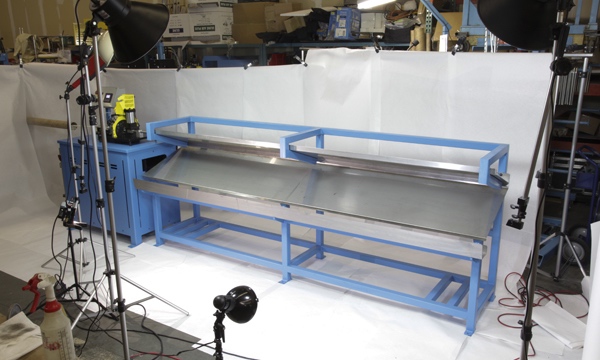 We now have large white cloth backdrops and a few rolls of 3' white vinyl purchased from a sign supply company we roll out on the floor. This can then be wiped down when we get back to the studio and reused.
Challenge 3: Wide variety of product sizes.
Having to shoot machines from 8 inches square in size to 26 feet by 10 feet by 7 feet creates its own set of hurdles.
Tip 3: Plan and communicate with the client about action areas, this is especially important on larger machines. Once I find out what is important to the client about the machine, I can then set up for a wide still shot and overlay the video into it or shoot a wide shot that we can then edit in a white background.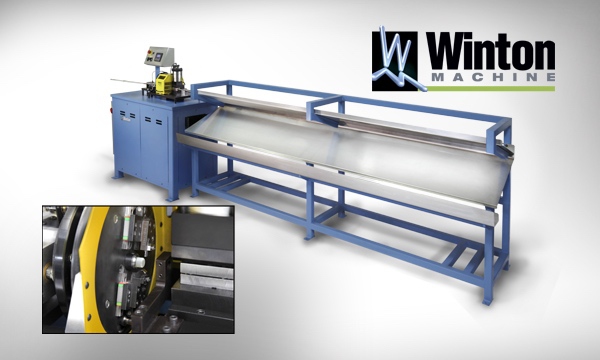 We like to shoot at 1920 x 1080 or even in 4k with the cameras locked down. We then can pan and zoom in editing. By balancing out the cost in setup and shooting, the client doesn't shy away from some of the bigger set ups.
Below is a timelapse 60 second video of how we setup and shoot a photo and video in a half day session.
We typically shoot in 1080p and 4k with Canon 5d Mark II and GoPro Hero4 as well as other cameras. We use FCPX to edit due to the speed and the fact that adding graphics can be done without leaving the software. Even though we do not have multiple editors working on most projects we import video with optimized and proxy settings on. Most of our edits are short but due to lighting restrictions on location we find we need to mask, color correct and adjust exposure on specific areas of the same shot, therefore working with proxies speeds up the project.